French-English Interpreter - France & Europe
Portrait
I am a freelance conference interpreter, based in France, translating from English into French and from French into English. I provide my clients with simultaneous or consecutive interpreting services in Paris, the western part of France (Brittany, Normandy, Loire valley, Greater Paris area, Région Centre, Nouvelle-Aquitaine), and in other locations in France or Europe.
I also offer a remote simultaneous interpreting service for videoconferences, wherever you are.
I am a member of the International Association of Conference Interpreters (AIIC), a graduate of the University of Strasbourg, and have worked in the translation and interpreting sector for the last 18 years.
A tailored professional service
In order to prepare for each interpreting assignment, I take the time to study the theme to be dealt with, and its specific terminology, in depth. Thus, for each assignment I carry out a great deal of detailed research in order to become familiar with the line of business, know-hows and goals of the company or the organisation in question.
In order to prepare for an assignment effectively, I therefore kindly ask my clients to provide me with background materials and relevant documents pertaining to the event.
I can also consider the technical aspects of your event, with you, providing you with practical advice and a comprehensive, turnkey solution that includes the supply of simultaneous interpreting equipment, public address systems, and technical assistance:
- Delegate Headsets - Soundproofed translation booths
- Tour guide systems - Public address systems (loudspeakers, microphones,..) - Remote Simultaneous Interpreting solutions (via videoconference) - Skilled and experienced technicians / Flexible and reliable service
Furthermore, I abide by the AIIC code of professional ethics, and therefore commit myself to respecting professional secrecy and confidentiality at all times.
References
I have worked in the following sectors:

Agribusiness
Archaeology
Architecture
Banking / Finance / Insurance
Communication
Computer science /IT
Culture / Music
Economics
Education
Energy & renewables
Maritime affairs & Marine sciences
Medical / Pharmaceutical
Industry & engineering
International politics
Science (Physics, chemistry)
Sport

Please feel free to contact me directly if you want more detailed references.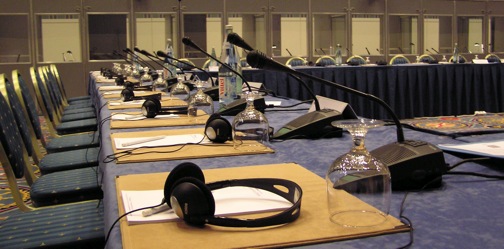 Gallery of pictures & example of assignment: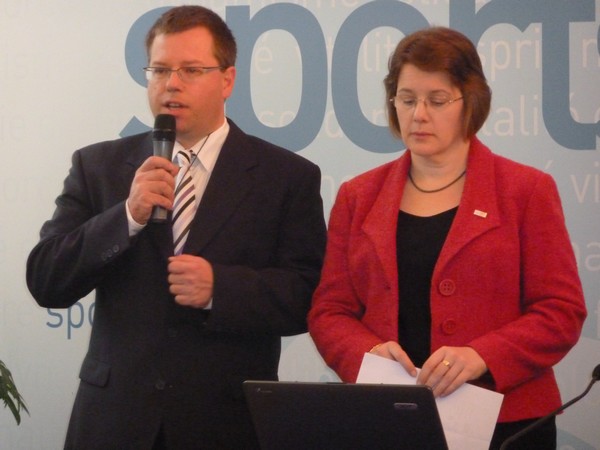 Interpreting assignment carried out during the appeal for the founding of a national day against meningitis in France, on the initiative of Méningites France- Association Audrey, in partnership with the Meningitis Trust (UK) and the Institut Pasteur . On this occasion, I translated for Mrs Sue Davie, Meningitis Trust CEO.
Press conference at the Ministry of Health in Paris (Monday the 27th of September 2010)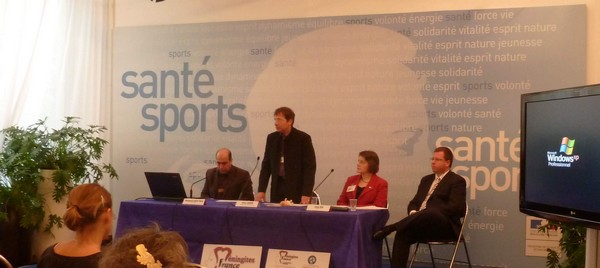 Gallery
Simultaneous & consecutive interpreting: choosing the appropriate service for your event
Interpreting is an exercise aimed at facilitating communication across languages. The interpreter listens to the speaker (source language) and then translates his/her words into the audience's language (target language).
Interpreting can be carried out in very different circumstances:
- conferences, congresses, colloquiums, seminars
- audits, business meetings
- meetings with a notary public or a lawyer
- business lunches etc.
- video conferences (Zoom, Teams)
Simultaneous interpreting is used mainly in conferences and seminars. Interpreters work in a soundproof booth and translate into the desired target language in real-time while delegates listen to the interpretation through headsets.
Consecutive interpreting is used when simultaneous interpretation is not practical, for instance during visits or over business lunches or dinner. The interpreter stands or seats next to you and translates what you said, once you have said it.(in a consecutive manner)
Contact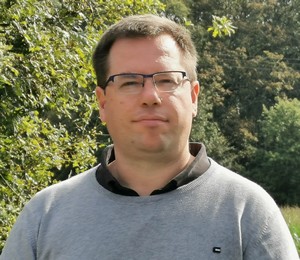 French business registration: SIRET 45406779700049